Coming off their most recent LP Cimemetropolis, the Blue Scholars have set off from Seattle on country wide tour. 4 years since their last album Bayani, Cinemetropolis was released his past June completely independently. Sabzi expands on his production style from the OOF! EP, providing heavily synth based instrumentation, while Geo's rhymes combine to keep the traditional Scholars sound. The duo is returning to Pullman next weekend; the last time the 206 group made a visit to Wazzu was last August for CougFest, where they rocked infront of 4,000 students on Terrell Mall.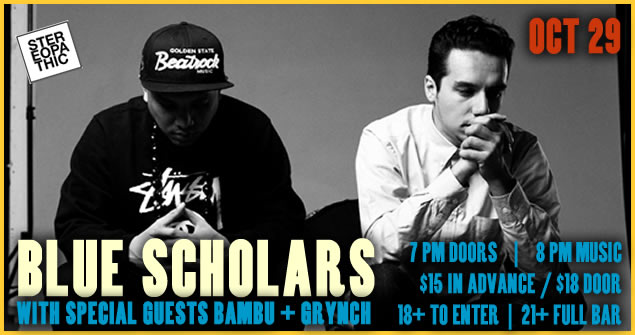 Traveling along with Geo & Sabzi are fellow northwest artist and CougFest performer Grynch, and Los Angeles legend Bambu. Fortunately this time around this heavy hitter tour is stopping by the east of the state and making tour stops here in Pullman & Spokane on back to back nights.
The Pullman show is at the BellTower Concert Hall in downtown Pullman on Saturday October 29th, and they'll be rocking Spokane the night before. The Seattle hip-hop scene has been making a name of itself for good-while now, and there is no end is sight as the quality, true hip-hop continues to be created. So go get your tickets and come out to what will be a great night of music, and support local, independent Hip-Hop! Check below for ticket info:
You can check out & listen to Cinemetropolis here: 
http://bluescholars.bandcamp.com/album/cinemetropolis
Pullman
FB group: http://www.facebook.com/event.php?eid=114223395346522
Buy tickets: http://belltowerpullman.com/bluescholars.html
or locally at Atom Heart Music, Prune Orchard, Palouse Falls Brewing, or Deadbeat Records.
Spokane: http://www.facebook.com/event.php?eid=111470178951700
Buy Tickets: http://holdmyticket.com/event/27934
Music video for 'Fou Lee' from Cinemetropolis
-Bryce P.
kzuu 90.7